What are Zazzle Animations?
Animations let you create fun and lively digital designs, including being able to add video clips to your design. While still in the Beta phase, animations are only available through www.zazzle.com/create. Over time, we will bring animation tools to more of Zazzle's digital experiences and products.
How to get started
It's easy!
Go to www.zazzle.com/create
Click "Start Creating" or one of the "Get Started" buttons.
Choose an available template or create your own from scratch.
Then choose one of the effects under "Animate All" to animate everything in your design. You can also click an object in your design, click "Animate" in the right panel, and choose the effect you want for only that object.
Note: You will not be able to apply animations to masks, locked objects, or backgrounds.
Animation Controls
Duration
This number is the total time (in seconds) of your full animation. This is how long the video file will be when you download it.
Play
Click this button to start playing your animation. Click anywhere else if you want to stop the animation playback.
If the button is disabled (it looks gray), then either you haven't applied any animation effects to your design yet or it is still playing.
Note: Sometimes your effects will all happen toward the beginning of your animation. In these cases it will look like nothing is moving after all of the effects have taken place, even if your animation is still in the process of playing.
Download
Choose to download an MP4 video file or a PNG image file of your design.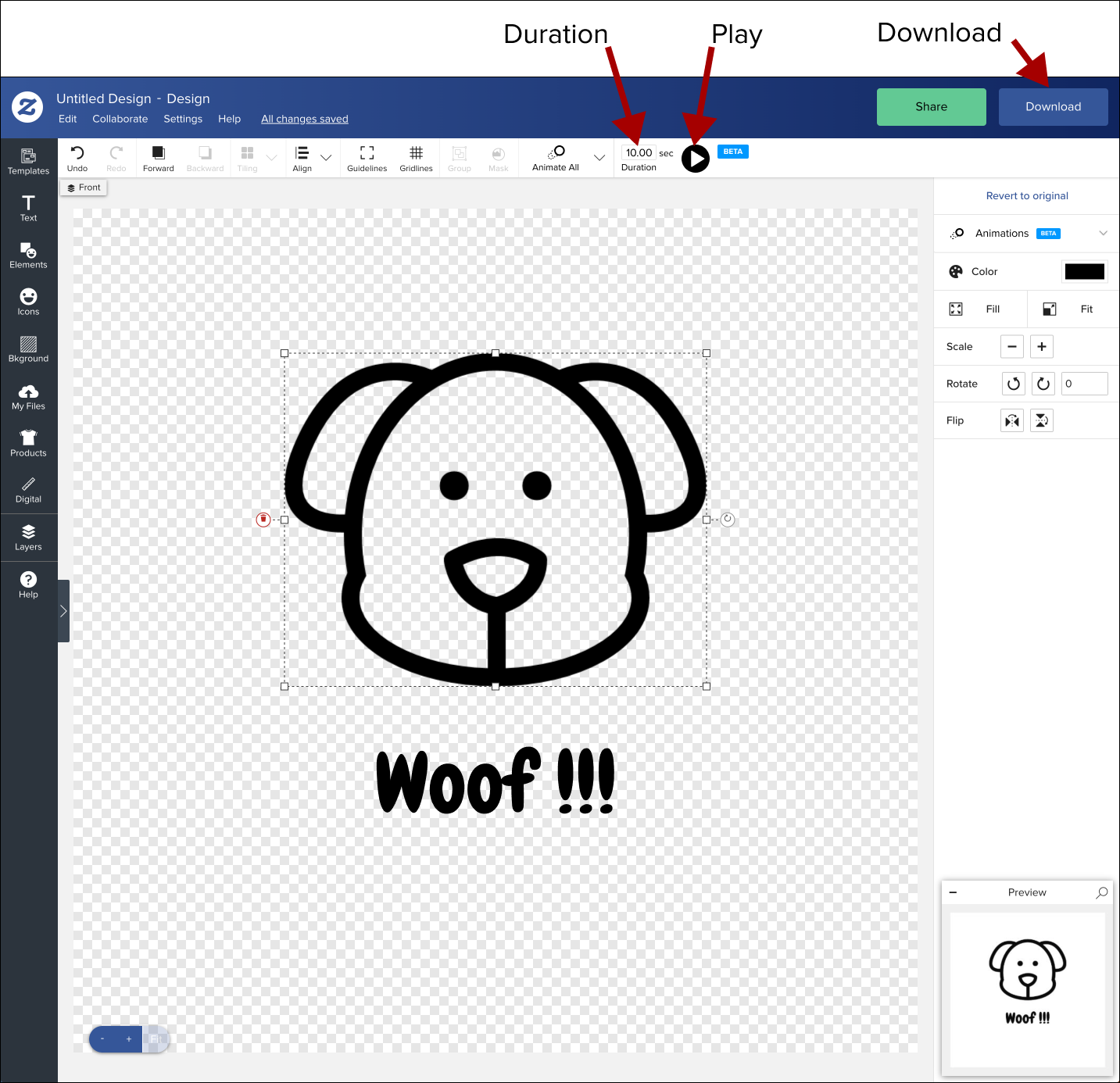 Animate All
These choices apply the same animation effect to all objects in your design. You can always change effects or remove an effect from individual objects after you Animate All.
Note: Choosing an effect from Animate All will replace existing animation effects you already have on your design objects. Also, if there a groups of objects, the effect will apply to each object individually, not to the group as a whole.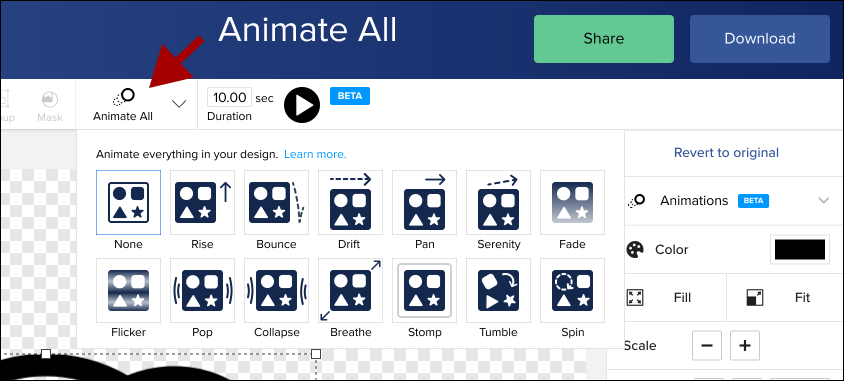 General animation effects
When you have one or more design objects of the same kind selected (e.g., only icons or only images), click "Animations" in the right panel. These effects can be applied to any object in your design.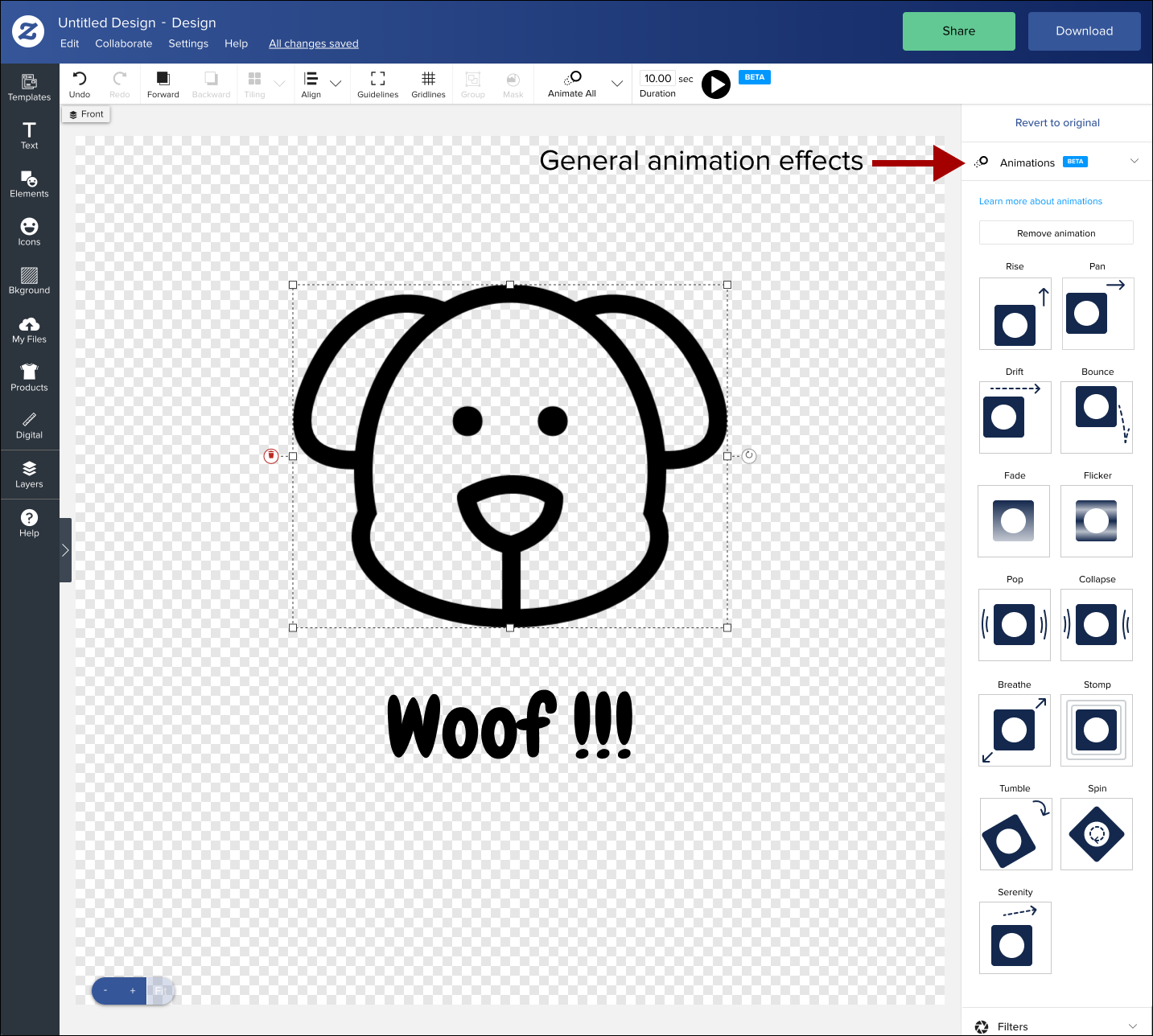 Text animation effects
When you have one or more text objects selected, click "Animations" in the right panel and you wil see text-only effects in addition to the General effects.
File types for download
PNG for a static image of your design
MP4 for a video of your animated design