Where is my Order - Shipping Delays
To check on the progress of your package, please log into your Zazzle account and go to your Order History. Find the shipped order and click on the "Track Package" button, which will allow you to track the progress of your package.
For more information on the different statuses, please see our Order Status Explained article.
If your package is taking longer to be delivered than is indicated on the "Track Package" section in your order details, please contact Customer Support.

please visit our shipping deadlines page to see which products and shipping methods will meet your deadline.
If you are wondering how long it will take for your product to be produced, we recommend checking the listed time on the product page: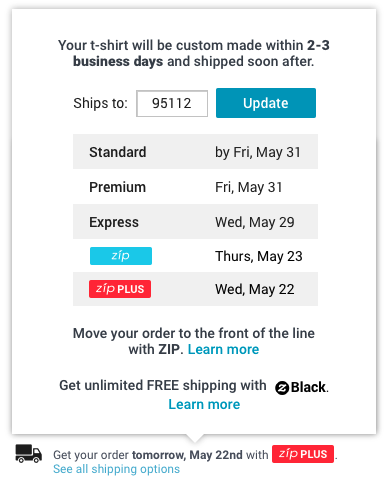 For a delivery estimate, click the "Shipping options" link on the product page.
Quantities of 50 or more pieces of any given product are considered "High Volume Orders" and may add 2-3 additional business days to the timeframes listed.
Stitch file digitization takes 1-2 business days in addition to manufacturing times.
Orders for 100 or greater units of any ornament, necklace or premium keychain style will require 5-7 business days to manufacture.
Shipping estimates will vary depending on the shipping method selected at checkout and are not included in the manufacturing turnaround times posted above.
Zazzle offers 5 easy shipping options for orders shipped within the US. You can choose from Zip PLUS, Zip, Express, Premium, and Standard shipping services. If you need your order right away, Zip PLUS & Zip will prioritize your order to the front of the manufacturing queue respectively and deliver it to you by the promised date, Express shipping will deliver it to you in 1-2 business days from the date of shipment (after manufacturing). Please allow 2-3 business days for our Premium shipping, and 4-7 business days for Standard. Available shipping options will vary depending on the product type, quantity ordered, and address type.
Special cases
Zip & Zip PLUS are only offered in the US at this time.
USPS is not available for Zip or Zip PLUS orders.
If you request shipping to a PO Box or APO/FPO location, please choose the Standard shipping option.
If you request shipping to US territories, please be sure to choose US Territory as the country and NOT the United States.
If you wish to learn about our Zazzle Plus Shipping Membership, click here.
Calculating Your Shipping Costs
Given the many variables in generating a shipping quote, we recommend you use the tools available to you on our site to get the most accurate pricing. You need not make a purchase to do so.
You can generate a shipping price quote by adding the items you are considering for purchase to your shopping cart. If this is your first time using the Zazzle checkout, you may be asked to create a Zazzle account, and to add a shipping and billing address in order to proceed onto the page with the shipping estimates. Rest assured that you will not be charged unless you proceed all the way through to the completion of your order (and the Order Confirmation page).
Once you have entered the requested information needed to provide the estimate, the various available shipping options, and relative pricing will be displayed. This page will also reflect an overall price for the order, including product, tax (if applicable), commission, packing, transport, insurance, and other incidental costs.*
Please note that both product & shipping prices are subject to change. Quotes generated using the method noted above are only valid for the browser session during which they are generated. Prices displayed during previous sessions will not be honored.
*The cart does not reflect customs duties for internationally bound packages ordered through the Zazzle.com site. For more information on import taxes, please contact your local customs office.
Inactive or Invalid Tracking Number?
If you have selected a shipping method that is traceable, please be advised that tracking numbers do not become active on most couriers' websites until after the delivery drivers pick up and scan the packages. In most cases, the initial tracking information will not show up in their online tracking systems until the packages have reached the main sorting facilities (generally after 8:00 pm P.S.T. on the day they are picked up).
Please refer to your Order Status page or your Shipping Confirmation email to see when the package was queued for shipment from our production facility.
If your order was queued for shipment after standard shipping times (6 PM PST) or on a weekend, then it will not be picked up by the courier until the following business day.
Zazzle and its couriers all consider business days to be Monday through Friday, not including holidays or scheduled service interruptions.
Zazzle and its couriers all consider the official "first day in transit" to be the business day following the pickup of the package.
Please check with your local postal service for all other regional restrictions and observed holidays that may delay receipt of your shipment.
For older orders, the shipping courier may have expired your tracking number. Please contact Customer Support if you have further questions about your order.