Zazzle Image Guidelines
The better your artwork looks, the better your Zazzle products will look. Creating great products on Zazzle is easy, and it all starts with your images and art. Use the information on this page to help you create designs that will look great on Zazzle products.
There are many ways to create an image. For example, you can create one with a graphics design program, scan in a physical photograph or something you've drawn or painted, or use a digital photograph.
Supported Image Types
Zazzle supports images in JPEG, PNG, PDF, SVG and Adobe Illustrator (AI) formats. These formats will produce great quality products as long as the resolution meets or exceeds our recommendations. We support full transparency for PNG, PDF and AI files. This can be especially useful if you are creating a design with multiple overlapping images such as borders to go around your design, or shapes with non-rectangular edges. For PDF and AI formats, we support vector output for most of our products. Please note that within the Zazzle Design Tool, a rasterized (bitmap) version of your vector-file will appear.
JPEG
The JPEG format supports millions of colors, which allows for great design flexibility.
The JPEG format compresses the image information, keeping file sizes small and reducing upload times.
Most digital cameras can save images in JPEG format.
PNG
PNG is a completely lossless compression format.
Most graphic design programs (e.g. Photoshop) can create PNG images.
The PNG format includes full alpha transparency support!
SVG
Mainly used for a vector XML based graphic format.
Can be used with hyperlinks, vector shapes, raster objects and text.
Supports manipulations and combinations of objects, including grouping, transformations, and scripting based on events.
PDF and Adobe Illustrator (AI)
PDF and AI formats support both raster and vector graphic information and full alpha transparency.
PDF is a cross-platform open-standard and can be created from many digital design applications.
These are compact, high-quality image file formats.
We accept embedded fonts in PDF files if you own the embed rights. If you do not own embed rights for a font, please create outlines of the font in your design software before creating the PDF.
Please note that any low-resolution bitmaps in the PDF will still cause resolution warnings on Zazzle.
If you upload a multiple page PDF, only the first page will appear on your product. For products with multiple design areas (such as front and back), you will need to upload separate PDF files..
GIF and TIFF formats are also supported. Please make sure the quality of your image is high enough to print on a product.
Image size and resolution
To ensure your images are the correct size and resolution, we recommend starting with one of the Zazzle Guide Files.
You can locate guide files on the design tool of most product types. From the Help menu, select Guidelines. If a guide file is available, you'll be able to download it by clicking on the file format highlighted in blue. For example, in the image below a PDF guide file is available for download.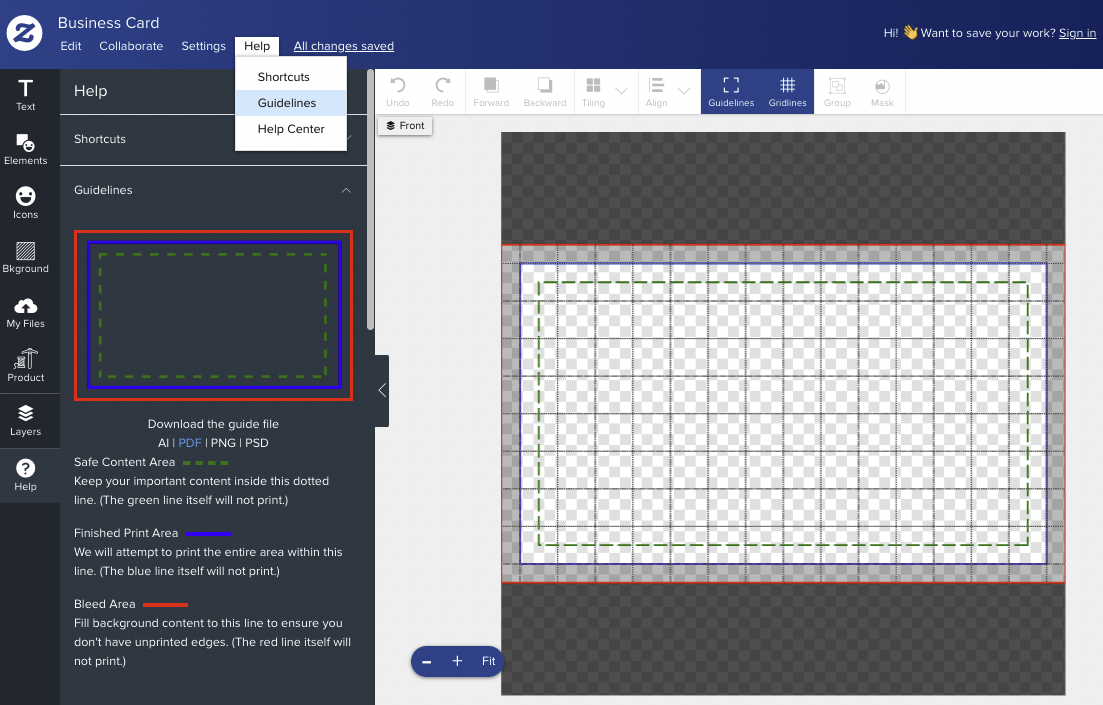 These guide files are the correct size and resolution required for great results. Higher resolutions will have even better results.
The general resolution requirements (in pixels per inch) are:
150ppi for apparel, aprons, bags, hats, mousepads, and ties.
200ppi for mugs, drinkware, calendars, cards, keychains, magnets, postcards, and all stickers.
300ppi for custom postage
300ppi for photo enlargements/prints, and posters
To fill the full area on any product, we recommend that you use images that are equal to or larger than the recommended sizes. In the Design Tool, a resolution warning will appear for any images sized larger than the resolution of the image allows.
DESKTOP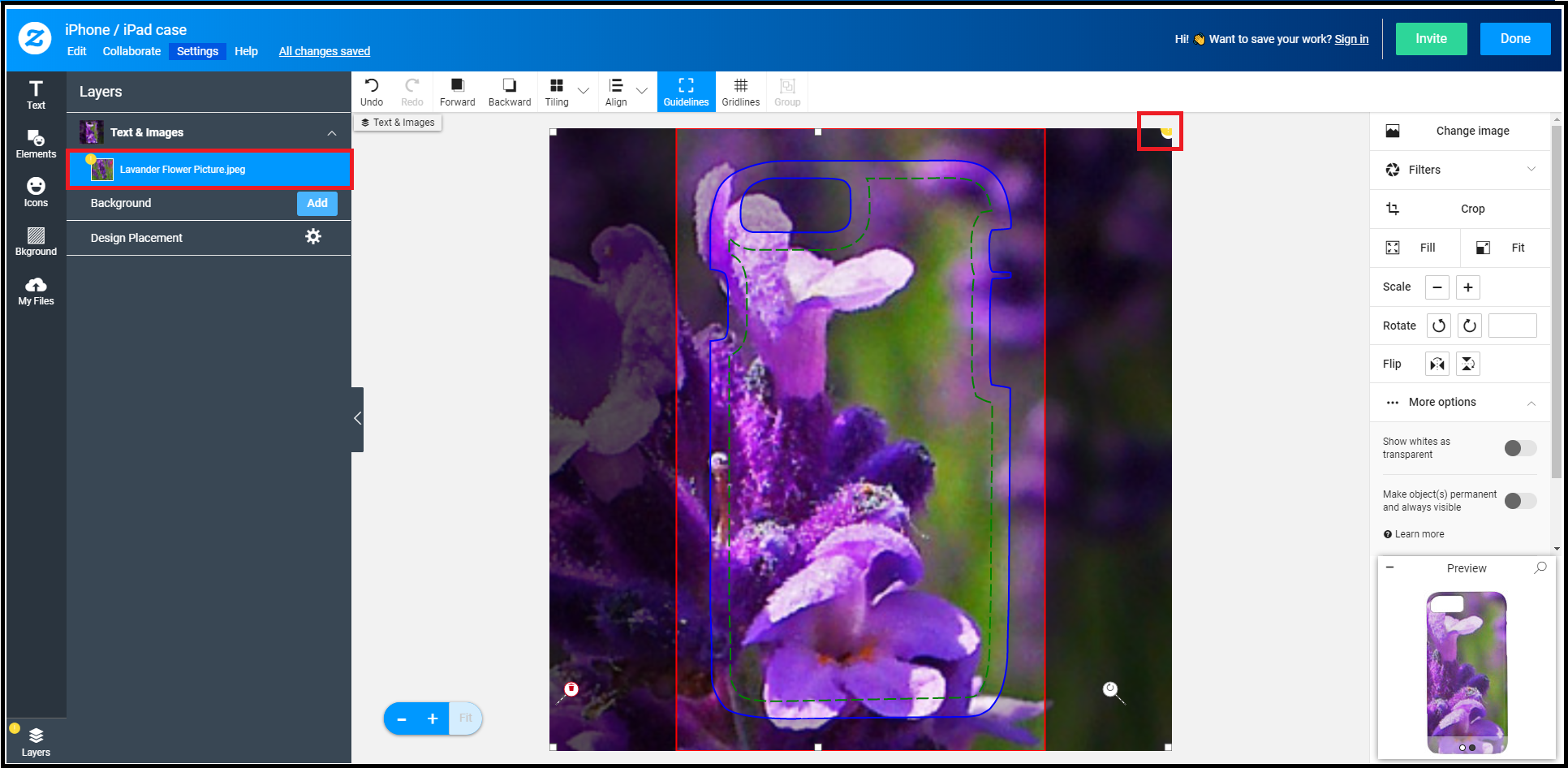 MOBILE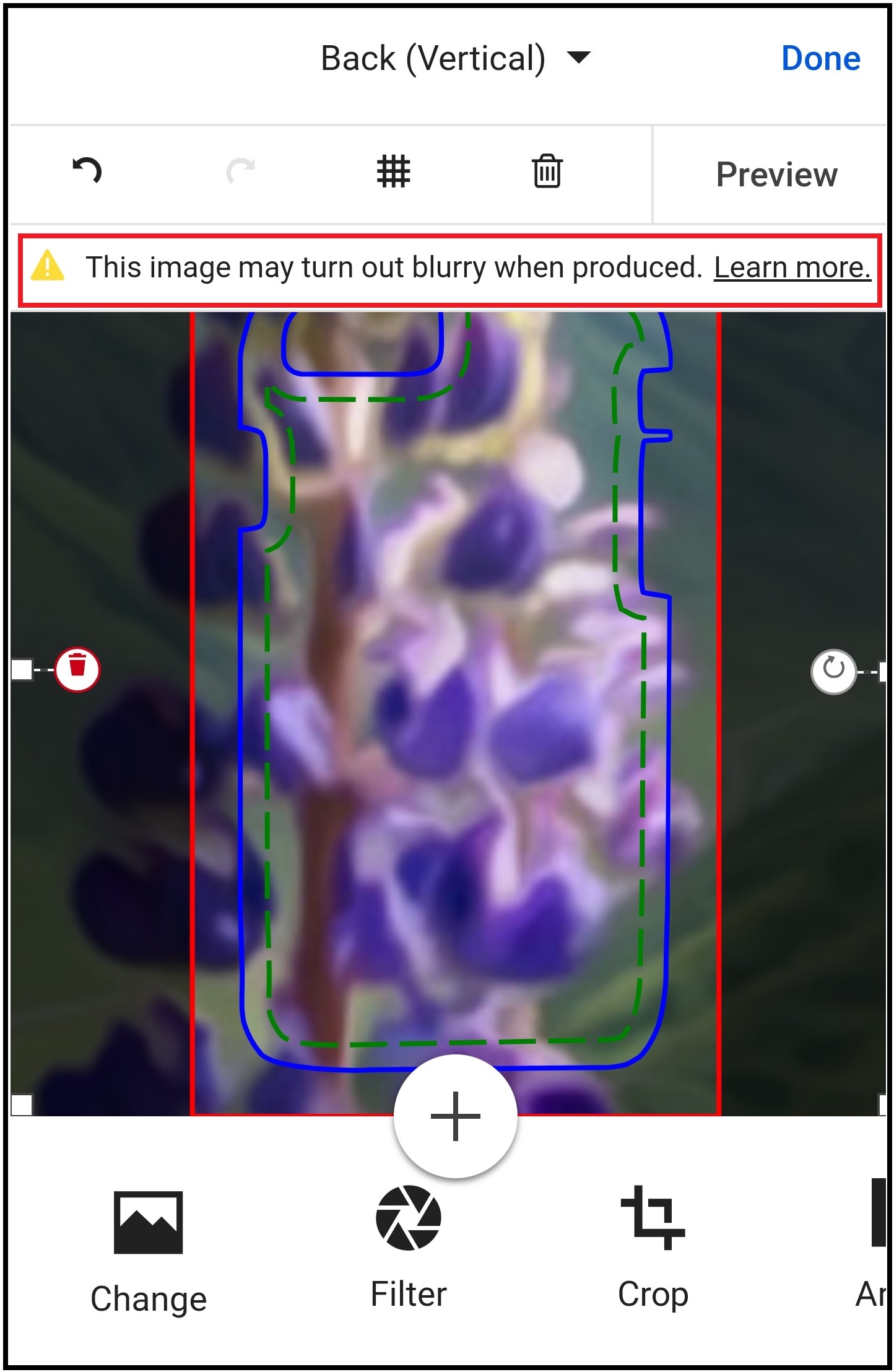 Suggested Color Profiles
We recommend using an RGB color profile for images; however, we also support CMYK based images.
A Note About Using Images with the Color White
In an image, there are areas that you may want to be transparent (i.e. the area or background behind it shows through) or areas that you may want to be non-transparent. If you create PNG images with transparency, then those transparency settings will be obeyed. In photos, we would guess that no area should be transparent.

But if you have a JPEG image (or PNG image without transparency), you cannot specify which areas are to be treated as transparent. In that case, we let you specify all white in your image as transparent. To do this, under the "Customize It" tab, please check "show whites as transparent" on the image module.
"Show whites as transparent"
When checked: The background color, shirt color, or any objects behind your image will appear in place of any white in your image.
When unchecked: The white in your image will appear as you see it on screen.
SELECTED: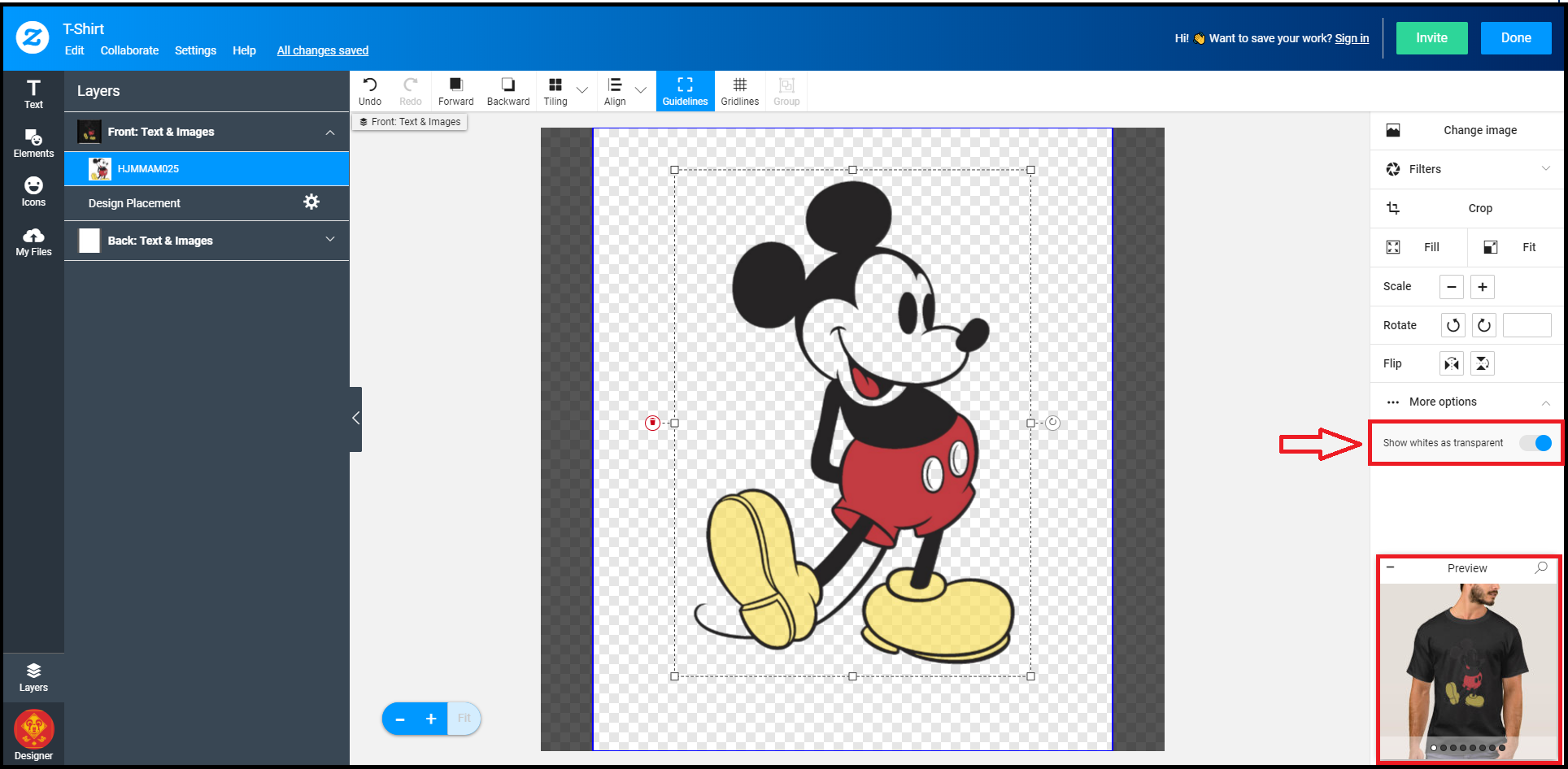 UNSELECTED: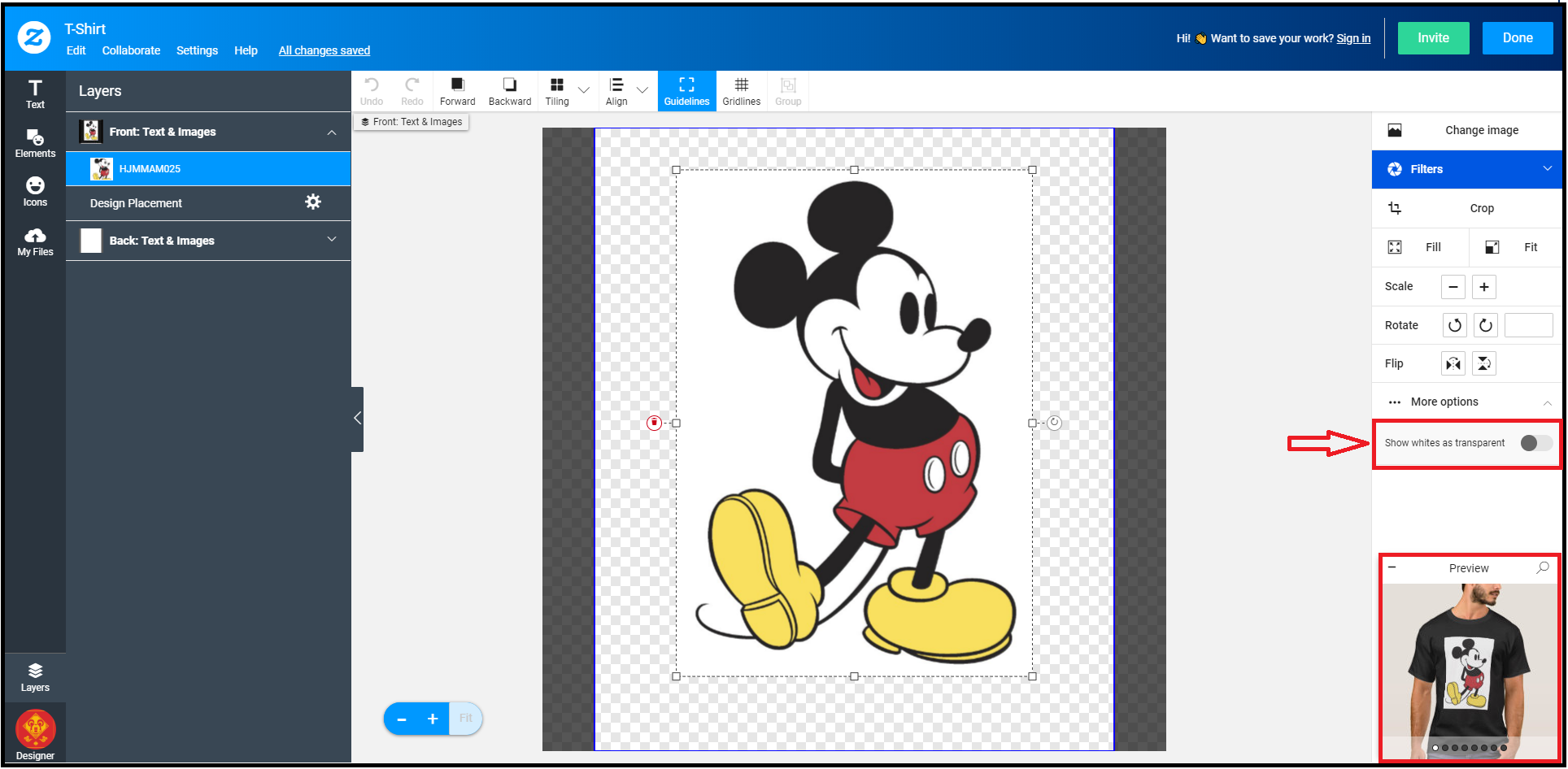 ---
Frequently Asked Questions
How do I add an image to a design or product?
In the Zazzle design tool, you may upload an image using the "Add Image" button. If you upload a new image, it will automatically be stored in your My Images collection in case you want to use it later.
How do I design for Dark Apparel?
To design your dark apparel shirt, start with our powerful Apparel Design Tool where you can add multiple images, and text in hundreds of fonts and colors to your shirt. Once you have started your shirt, simply select a dark-colored shirt as your style within the style selector tool on the right-hand side of the product page desktop, or below the image on mobile.
Designing for Dark Apparel
When designing for dark apparel, you now have the ability to specify which parts of your image should be transparent, and which parts should actually be printed as 'white'. After you've added an image to your design, click on the 'More' button in the design tool and use the 'show whites as transparent' checkbox (see illustration above). Note, this checkbox is not available for light apparel.
What is the best size and resolution for a light apparel design?
When generating an image to upload to our site for light apparel, the best approach is to create your file measuring 14" wide x 12" tall (and at a resolution of 150ppi). This way, the design you submit will appear at the same size and aspect ratio when your product is manufactured. If you save your file as a JPEG, the white portions it contains will be omitted, so you do not have to worry about the white box that encloses your design. If you save your image file as a PNG, make sure that area around your image is transparent in order to ensure that everything but your design is omitted when manufacturing your shirt.

Will the white color in my image print on my Light Apparel Product?
We use a brand-new and very sophisticated technology to print the apparel products. The inks are actually sublimated into the fibers of the t-shirt, which makes the colors vibrant and keeps the shirts very soft. It also allows us to print thousands of colors (enabling photo-realism) instead of a few, compared to screen printers. Unfortunately, the technology does not yet support printing "white" coloring, because our process lacks white ink.
Comparable to your printer at home, our system processes "white" portions of images as transparencies, and omits them. In short, all white portions assume the color of the shirt they are placed on. We protect against this by no longer allowing white text to be selected. At this time, the only way around this problem is to print your image on a white shirt, or to design your image for a Dark Apparel product where white can be printed.

Will the black background of my graphic match the black color of my Dark Apparel product?
In order to best match the color of the dark apparel your product will be printed on, we recommend removing the black background on your image and replacing it with transparency.
Zazzle's state-of-the-art apparel printing allows for unparalleled results. The instructions below will help you create the best images to ensure the highest quality reproduction on your apparel products.When designing for dark apparel, you now have the ability to specify which parts of your image should be transparent, and which parts should actually be printed as 'white'. After you've added an image to your design, look under advanced options in the design tool and use the 'show whites in image as transparent' checkbox. Note that this checkbox is ignored for light apparel. Be sure to adhere to the minimum resolution of 150ppi when designing for apparel. Using the Guide Files will help.
The Color White
White is not printed on light-colored Zazzle apparel (including grey, ash, natural, light blue, pink, light green, etc.) In this case, any white in your design will appear as the color of the shirt. On Zazzle Dark apparel (black, red, etc.), we have a special printing process that allows us to print white on these shirts. Please see: Designing for Dark Apparel.
By default, "show whites as transparent" will be selected. Please note that with JPEG images, white colors will be printed as transparent regardless of whether or not this box is checked.
Designing with Text
You can easily add text in any color on your design. White text looks great on a black t-shirt!
Designing with Images
As with all other products, Zazzle supports images in either PNG, JPEG, GIF, TIF, PDF and AI formats. For dark apparel specifically, we recommend using PNG images with transparency - with PNG images, any areas that are supposed to be transparent will not be printed, and all other colors including white will be printed as intended. The only way to specify that 'white' will be printed is if you use images with transparency. Partial transparency is not supported, if an area is not fully transparent, it will be printed as opaque.