If you're a new Creator or Maker and you're building out your storefronts for the first time, don't rely on the default image sizes to represent what it is you're selling. Spruce it up as a way to brand your store and yourself! Tell a story with the images so customers will want to learn more about you and what you create.
Below are the image sizes we suggest you use so you can have your store looking in top-tip shape:
Banner
The main banner to your store should be at least 2280 pixels wide by 380 pixels in height (e.g. 2280 x 380).
Your banner should give some 'texture' as to what your store is. A pattern or repeating image works well, as does a photo of objects that you don't have to see in their entirety to know what they are. The reason for this is because your banner scales depending on the device it's viewed on.
Logo
You should have a logo that fits into a square shape and is no less than 512 x 512 pixels.
Media Images
Any photography or images you add to your All Media section should be at least 1080 x 1440 pixels.
The image sizes we give above are the minimum of what you need to upload. If you want the best resolution possible, double the pixel size we suggested above.
DESKTOP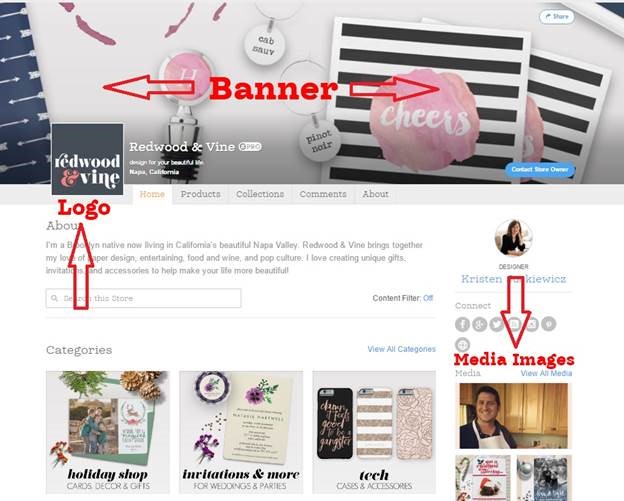 MOBILE