How to connect to Customer Service Chat?
What's Chat?
Zazzle Chat is your opportunity to directly connect with fellow members from the Zazzle community! Whether you have a question about a design or want to discuss a collaboration, the Zazzle Chat page is your primary area to start sending messages, share images, and even view all of your chat threads! Have a question about a design? Click on the

button and start a chat!
How do I start a Chat?
You can start a chat simply by clicking on any page that has a

button! When clicked, you'll be redirected to our "Ask A Question" page.
Follow the prompts so that we can confirm that it's a design question:
Select a topic: Designing and placing and order > Design question
Once we have confirmed that your inquiry is related to a design, simply click "Thanks, but I'd still like to contact the creator." and you'll be sent to the Zazzle Chat page!
If it's your first time using Zazzle Chat, we'll ask for some quick details before beginning….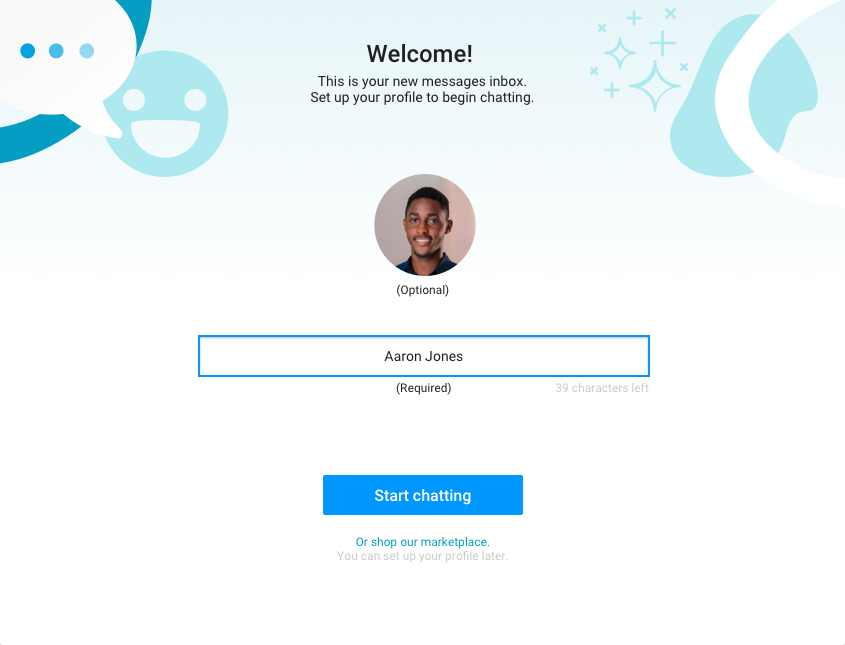 Upload a photo and enter your name. The creator on the other side of your chat will appreciate knowing and seeing who they're chatting with! If you already have your name and photo on your Zazzle member profile, then you're in luck! This information will automatically imported on the registration page.
The Inbox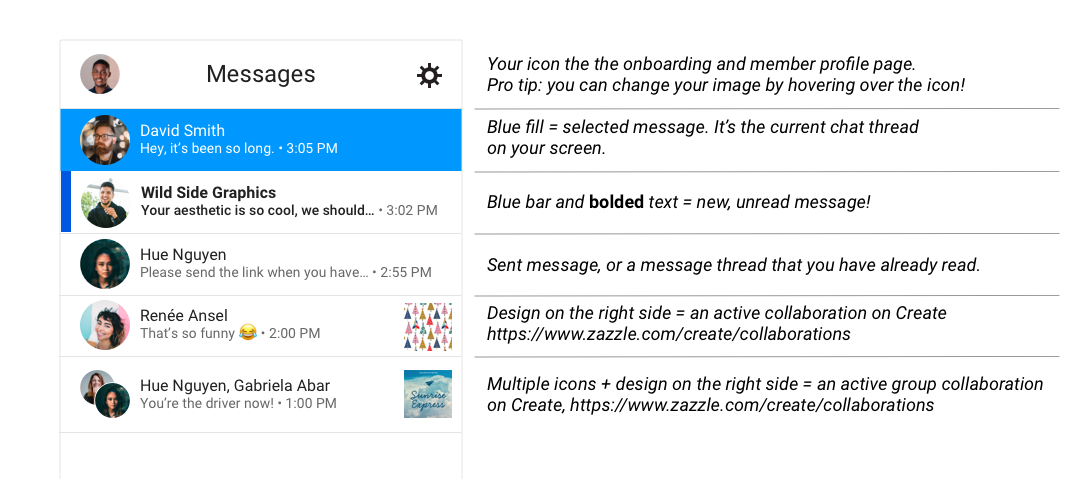 Can I send images?
Yes! Just click on the

button, and select an image from your My Images page. You can also upload new images from the My Images page or simply drag-and-drop the image onto the chat page.
How do I know when I receive a new message?
There's a couple of ways to tell if you have a new message:
On the top menu bar of the Zazzle web page, if you see a red dot on the corner of the chat logo, this is an indicator that you have new message(s) waiting for you in your inbox!
Check your email that is registered to your Zazzle account. Just look for the email with the subject line: "You have a new message on Zazzle" and click on the "View Message" button from the email that will take you straight to Zazzle!
I had a bad exchange with someone, how do I block them?
Click on the "View Chat Information" icon

to open the right panel and click on
You can always "unblock" them from your Settings page by clicking

If you experienced any behavior from another member in the Zazzle community that is in violation of Zazzle's Terms of Service, please inform us at: community@zazzle.com so that we can review and take the appropriate actions.
How do I opt-out of chat?
There is no opt-out option. We want users of the Zazzle platform (creators, artists, consumers, makers, etc.) to have an inclusive experience where everyone can connect and share ideas in a collaborative environment to create the next big product on Zazzle's marketplace!
With that said, we understand your hesitations on directly connecting with your customers. We're not here to put you in an uncomfortable position in any way. If you are unable to assist our customers, we would suggest directing them to our customer service team by sending them a quick message such as: "Sorry I'm unable to assist you at this moment, please check out the Zazzle Help Center for answers to all of your questions: https://help.zazzle.com/hc/"
How to connect to Customer Service Chat?
This article is designated to assist with connecting with our community of creators by chat.
If you wish to contact a customer service representative, if an agent is available to chat online, you will see a blue chat icon at the bottom of this article, you can also view other ways to contact our customer service by clicking here